MEMBERSHIP IN THE HUNGARIAN CULTURAL GARDEN:
Help Preserve and Renovate the Hungarian Cultural Garden
We have one of the largest gardens in the Federation of Gardens and the responsibility to do what we can to preserve and renovate this priceless treasure. Although we have started the work of renovation, and rededicated ourselves and the Hungarian community to it, we still have much work ahead of us to repair the many decades of deterioration.
We need your help and donations to keep going on our work to eliminate the deterioration. We started Phase I, weed and overgrowth control, in late 2007. We completed major structural repair projects in late 2008 and throughout 2009. And the work has continued for over a decade, but there is still much more to do in coming years.
Join with proud Hungarians like you in celebrating our heritage and culture!
Your Membership & Donation Helps Preserve & Renovate
Our Hungarian Cultural Garden
Join the many Hungarian individuals, families, organizations, clubs, and churches of Greater Cleveland in supporting the preservation and renovation of the Hungarian Cultural Garden, since 1938 a living symbol of the culture, history and contributions of Hungarians to America and the world. We need your support!
Csatlakozzunk minél többen ehhez a közös munkához, mert ha mi nem tartjuk fenn örökségünket, akkor más nemzet könnyen átveheti tőlünk. Őrizzük és ápoljuk a Magyar Kultúrkertet, kultúránkat és hagyományainkat! Kérjük a clevelandi magyarságot és a Clevelandban működő szervezetek, egyházak és egyesületek támogatását!
Yes! I would like to join and support the Hungarian Cultural Garden of Cleveland, a 501(c)(3) charitable organization:
Download the HCG 2023 Membership Form
Download the Cleveland Hungarian Cultural Garden Newsletter (February 6, 2023)
Summary of 2023

How can I be involved?

Activities for 2023
Download the HCG Information Brochure 2023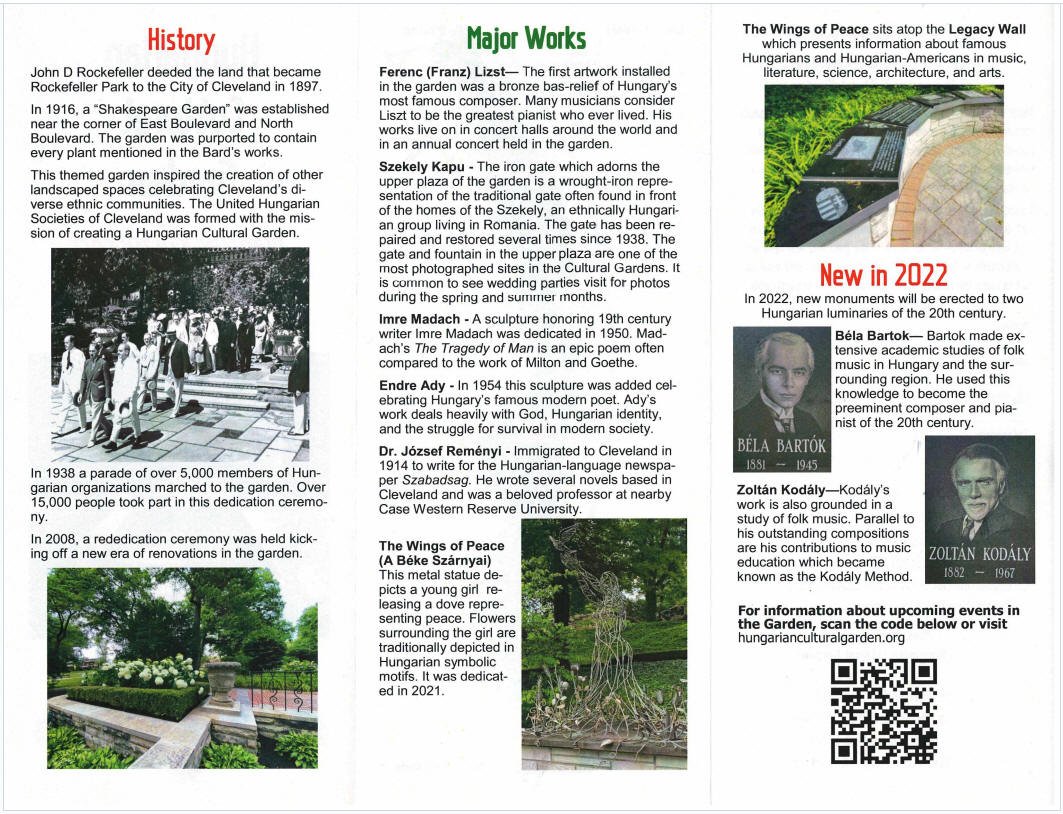 * * *
Preserving and Upgrading the Hungarian Cultural Garden of Cleveland
The 75th Anniversary Renovation and Cultural Monument Campaign
See the booklet that was used for fundraising in 2013.


-------------------------------------------------
Copyright © 2023 by Hungarian Cultural Garden. Website editor: Lél F. Somogyi

(lelsomogyi@hotmail.com)




The Hungarian Cultural Garden is a member of the

Cleveland Cultural Garden Federation

and is a registered 501(c)(3) nonprofit.