To learn about the Hungarian Cultural Garden, its history, how to become a member, and past events, click on the buttons above.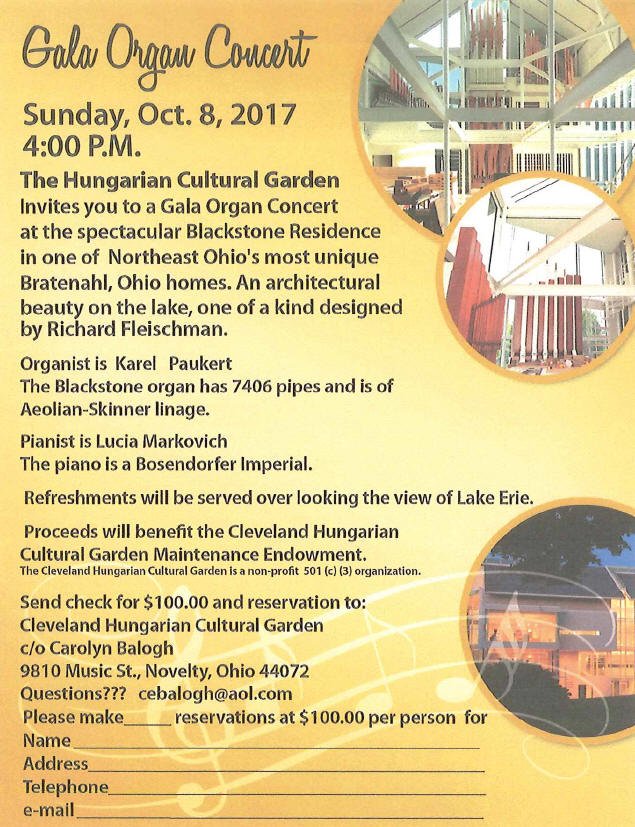 Download HCG Organ Recital 20171008.pdf
* * *
There was a record crowd in the Hungarian Cultural Garden for the annual Liszt (and Bartok) concert. Photos and videos at: http://www.clevelandpeople.com/groups/hungarian/2017/hungarian-garden-liszt-concert.htm

* * *
– Download HCG Information Brochure &
HCG membership form –-
* * *
Wanted: Your stories and your best photos of the Hungarian Cultural Garden!
Send us your recollections and best photos and scans which we will publish on our website... click for more
* * *
* * *
Click Past Events button above to see pictures and other materials from past events
Interested in the layout of the Hungarian Cultural Garden? Click here to view drawing to scale.
* * *
UPCOMING FUNDRAISERS AND EVENTS:
Planned Fundraisers & Events for 2017 (Save the dates!):
Concert in the Garden Liszt Concert Sunday, June 25, 2017
Golf Outing and Fund Raiser Wednesday, July 19, 2017
One World Day Sunday, August 27, 2017
Organ Concert

Sunday, October 8, 2017
-------------------------------------------------
Copyright © 2017 by Hungarian Cultural Garden. Website editor: Lél F. Somogyi

(lelsomogyi@hotmail.com)


The Hungarian Cultural Garden is a member of the

Cleveland Cultural Garden Federation

and is a registered 501(c)(3) nonprofit.