To learn about the Hungarian Cultural Garden, its history, how to become a member, and past events, click on the buttons above.
UPCOMING FUNDRAISERS AND EVENTS: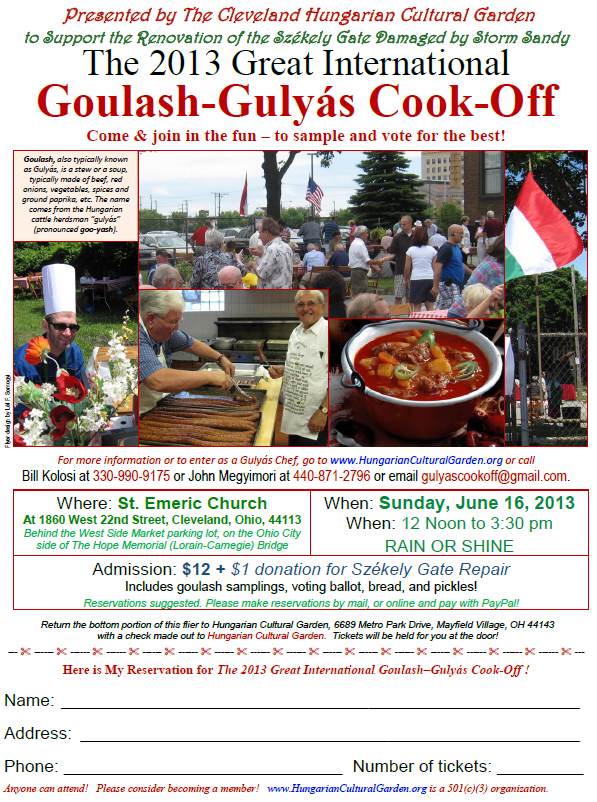 Click above for more information
UPCOMING FUNDRAISERS AND EVENTS:
SAVE THE DATE! – GOULASH COOK-OFF – SUNDAY, JUNE 16, 2013
SATURDAY, JULY 20, 2013 – 75TH ANNIVERSARY CELEBRATION OF HUNGARIAN CULTURAL GARDEN
AUGUST 8, 2013 – GOLF OUTING AND DINNER
* * *
Preserving and Upgrading the Hungarian Cultural Garden of Cleveland
The 75th Anniversary Renovation and Cultural Monument Campaign
Learn about how you can help by downloading the booklet
Click Past Events button above to see pictures and other materials from past events
Interested in the layout of the Hungarian Cultural Garden? Click here to view drawing to scale.
-------------------------------------------------
Copyright © 2013 by Hungarian Cultural Garden. Website editor: Lél F. Somogyi

(lelsomogyi@hotmail.com)


The Hungarian Cultural Garden is a member of the

Cleveland Cultural Garden Federation

and is a registered 501(c)(3) nonprofit.